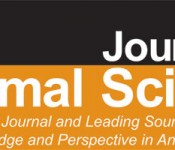 By Taking Stock Contributor
The March 2014 issue of the Journal of Animal Science contains articles from the 2013 Triennial Growth Symposium, which was held at the Joint Annual Meeting in Indianapolis. The symposium was entitled "Vitamin D – Establishing the basics to dispel the hype." The goal for the symposium was not only to highlight the recent advances that have led to renewed interest in vitamin D research but also "… to distinguish between roles for vitamin D that can be supported by scientific principles vs. speculative roles that are not fully supported. This approach will hopefully dispel some unrealistic hype generated by speculative inferences," stated Dr. T. Crenshaw (University of Wisconsin; Chair of the Organizing Committee) and colleagues in their article summarizing the symposium (Crenshaw et al., 2014).
The symposium began with Dr. H. F. DeLuca's (University of Wisconsin) overview of the last 100 years of vitamin D research (DeLuca, 2014).  DeLuca and his colleagues have provided many of the fundamental observations on the endocrine roles of the vitamin D system during his more than 5 decades of research. DeLuca also summarized his current research on extra-skeletal actions of vitamin D and its metabolites, "and the use of active, synthetic vitamin D analogs to successfully treat diseases [including] psoriasis, postmenopausal osteoporosis, and type 1 diabetes" (Crenshaw et al., 2014), as well as several other diseases for which there is little evidence for a therapeutic role of vitamin D. As Crenshaw and co-authors mention, "Deluca [also] identified many areas of research needed to understand the roles of vitamin D in both skeletal and extra-skeletal tissues."
The symposium continued with Dr. C. M. Weaver's (Purdue University) presentation on the basis for the latest guidelines for vitamin D in humans (Weaver, 2014). Weaver discussed the methods used to establish human vitamin D requirements as well as the arguments for the recommended use of serum concentrations of the vitamin D precursor, 25-OH-D3, as an indicator of vitamin D status.
Similarly, Dr. C. Lauridsen (Aarhus University, Denmark) discussed her recent research that contributed to establishing the latest vitamin D requirements for swine (Lauridsen, 2014). "The intent of the Triennial Growth Symposium committee for [these presentations] was to help bridge an understanding of the approach[es] used to set human and animal nutrient requirements," stated Crenshaw et al.
Dr. B. Lanske (Harvard School of Dental Medicine) discussed recent research on the feedback relationship between vitamin D and another hormone, fibroblast growth factor 23 (FGF-23), and their interaction with parathyroid hormone (PTH), to regulate normal and abnormal mineral metabolism (Lanske, 2014). Additional talks covered current research on novel roles for vitamin D in animal health and immunity (Barreda, 2014) and in skeletal muscle development and growth (Starkey, 2014).
Current applications of vitamin D research were highlighted in talks on vitamin D deficiency in commercial swine (Madson, 2014) and vitamin D supplementation in swine (Perez-Alvarado et al., 2014; Weber, 2014), as well as current analytical methods for diagnosing vitamin D deficiency and excess in livestock (Horst, 2014). Lastly, two abstracts selected from the general program were presented on the topic of vitamin D supplementation in preweaning and nursery pigs diets (Rortvedt-Amundson, 2014; Flohr, 2014).
These are must-read articles for anyone interested in vitamin D research and its applications.
Media and Scientific Contact:
Larry Reynolds
ASAS Media Communications