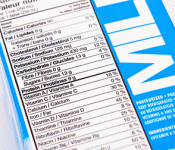 J. J. Matte, M. Britten, and C. L. Girard
Implications
Among animal products, those from ruminants are particularly rich in vitamin B12, which is naturally synthesized by the ruminal microflora and transferred to milk.

Concentrations of vitamin B12 in milk vary considerably and are affected by diet.

Dairy products retain, in general, a major part of the vitamin B12 naturally present in milk, some processing conditions may even add to the basal level by production of vitamin B12 from propionic bacterium in Swiss-type cheeses.

Intestinal bioavailability of vitamin B12 from milk, regardless of the technological process (raw, pasteurized, or microfiltered) is greater than the synthetic form used in supplements.
Animal Frontiers April 2014 4:32-37; doi:10.2527/af.2014-0012
Full article: http://www.animalfrontiers.org/content/4/2/32.full