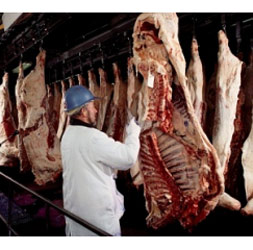 Laura Mushrush, Assistant Editor, Drovers CattleNetwork
Total red meat production was slightly down in 2013 according to the USDA annual Livestock Slaughter summary released on Monday.
Red meat, which includes beef, veal, pork, lamb and mutton, totaled 49.3 billion pounds in commercial plants and 95.6 million pounds through on-farm slaughter.
Although efforts have been made to expand the national beef herd, beef production was down 1 percent from the previous year at 25.8 billion pounds.
2013 commercial cattle slaughter totaled 32.5 million head, also down 1 percent from the previous year. Federal inspection was 98.4 percent of that, with steers compromising 50.1 percent of the inspected total. Heifers followed at 28.6 percent, dairy cows at 9.8 percent, and the remainder 11.5 percent being other cows and bulls.
According to the report, the average live weight carcass is up 12 pounds from a year ago – weighing in at 1,314 pounds.
Click here to read the full report.