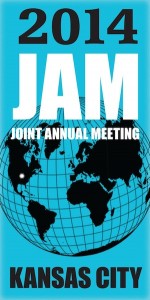 Are you bringing your spouse or family to the Joint Annual Meeting, July 20-24 in Kansas City, MO? If so, there will be plenty of things for them to do while you are attending scientific sessions! Here are two tours we have arranged for spouses.
Monday, July 21
Arabia Steamboat Museum and The Hallmark Visitors Center 9:45 am – 4:00 pm

On Monday, we are offering a Spouse Event at the Arabia Steamboat Museum and The Hallmark Visitors Center.
The morning will start at the Arabia Steamboat Museum. The Arabia Steamboat is home to a true time capsule of frontier life in the 1800s. In the fall of 1856, the Arabia was traveling up the Missouri River when she struck a tree snag and sank just north of Kansas City. Her cargo hold was full of 200 tons of supplies bound for general stores and pioneer settlements. As the years passed, the river changed course and left the Arabia buried beneath a Kansas cornfield. Finally, in 1988 a group of modern-day adventurers uncovered the lost Arabia and her magnificent cargo. They were amazed to find fine dishware, clothing and even bottled food all preserved in remarkable condition.
After lunch (which is provided), the next stop will be The Hallmark Visitors Center. The Hallmark Visitors Center celebrates the creation of one of the world's largest greeting card companies in 1910.
Tickets are $49 (ticket price includes lunch).
Wednesday, July 23
World War I Museum and Shopping 9:45 am – 4:00 pm

On Wednesday, we are offering a Spouse Event at the World War I Museum followed by shopping.
The National World War I Museum at Liberty Memorial shares deeply personal stories of courage, honor, patriotism and sacrifice. Through thousands of historical objects, photographs and eyewitness accounts, you will experience this monumental event from the individual's perspective. This state-of-the-art museum takes you on an epic journey through a transformative time in our world's history.
Once you have experienced the museum, you will be dropped off at the Country Club Plaza for lunch and shopping on your own. This 14-square-block outdoor shopping and entertainment district is filled with romantic Spanish architecture, European art and dazzling fountains. Designed in 1922, the Plaza features boutiques and fashionable national stores as well as distinctive restaurants, outdoor cafes and night-life hotspots. Two nationally renowned art museums are located nearby, The Nelson-Atkins Museum of Art and the Kemper Museum of Contemporary Art.
Tickets are $35.
Space is limited so make sure to register your spouse today! If you have not already registered for the 2014 Joint Annual Meeting, visit the JAM website for registration information.