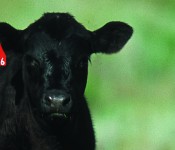 Written by Anne Zinn
In the commercial cow-calf sector, a herd bull has value based on his ability to impregnate as many cows as possible and his ability to pass genes for superior performance to his offspring. Currently, natural-service breeding is the most common practice in the beef industry in the United States, but few studies have examined the variation among bulls in the number of calves sired in multisire breeding pastures and the consistency of an individual herd bull's performance over time.
In a study appearing in the June 2014 issue of the Journal of Animal Science, Dr. Alison Van Eenennaam and coworkers at the University of California, Davis, used SNP-based DNA testing to examine this variation among sires and the potential uses of the technology for making management decisions in the commercial beef industry.
SNP-based DNA testing was used to determine paternity of 5,052 calves conceived by natural service in multisire pastures from 3 commercial ranches in Northern California over 3 years. The objective was to use this information to quantify variation in prolificacy of bulls in this breeding scheme and environment. Van Eenennaam stated, "The data were collected as part of a larger USDA, NIFA-funded integrated project looking at the uses and potential value of DNA-based information on commercial beef cattle ranches."
The results showed that the number of calves sired per bull in multisire breeding pastures is highly variable, but the average number (19 per breeding season) was similar across ranches. The authors also found a positive correlation between prolificacy and scrotal circumference expected progeny difference (SC EPD) for Angus bulls with SC EPD Beef Improvement Federation accuracies greater than 0.05. "This suggests this might be a criterion to consider when selecting herd bulls," Van Eenennaam stated. "DNA paternity testing of the subset of calves born in week 3 of the calving season was highly predictive of overall bull prolificacy and may offer a reduced cost approach to using DNA-based information to determine prolificacy."
The varying prolificacy of herd bulls also has implications for the genetic composition of replacement heifers; the genetics of the highly prolific bulls siring a large number of early-born calves is likely to be disproportionately represented in the replacement heifer pool. However, the best genetic bulls, according to genetic merit estimates, are not always the most prolific, which may slow the overall rate of genetic process.
"Increased use of the elite genetics available via artificial insemination (AI) sires could help to improve the rate of genetic progress in the United States beef industry," Van Eenennaam said. Based on the results of this study, high cost of herd bulls, and availability of reliable and fixed-time AI protocols, "It is probably time for commercial producers to reevaluate the economics of AI versus the exclusive use of natural service bulls."
Media Contact:
Anne Zinn
Scientific Contact:
Larry Reynolds
ASAS Media Communications
Larry.Reynolds@ndsu.edu