Written by Jacquelyn Prestegaard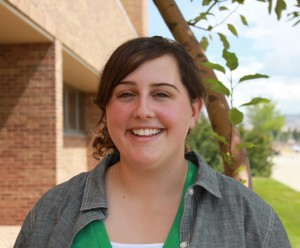 A personal connection and deep respect for animal agriculture is what drives Hannah Cunningham.
Cunningham is one of WSASAS' Young Scholars Recognition Program recipients. She will be honored at the 86th Annual Western Section Meeting in San Angelo, TX.
She grew up on a cow/calf operation in Kaycee, Wyoming, helping her parents raise both Hereford crosses and purebreds. Cunningham earned her B.S. in Biology at St. Olaf College, and recently completed her M.S. in Ruminant Nutrition at University of Wyoming (UW). She credits her educational pursuits to her personal connection with the beef industry.
"Although I enjoyed studying Biology, I wanted to get back to agriculture," said Cunningham. "It's what my family has done for generations."
Her Master's work involves the relationship of visceral organ mass, small intestinal vascularity, and nutrient transport in the small intestine with feed efficiency in finishing cattle. Cunningham's thesis research focused on discovering mechanisms of the small intestine that may influence metabolic efficiency in order to improve overall feed efficiency.
"I enjoyed it because we were able to conduct basic research that looked into various questions about the small intestines," said Cunningham. "Ultimately, this science is relevant to beef nutrition and the beef industry."
She will return to UW to complete her Ph.D. in Ruminant Nutrition under Dr. Kristi Cammack. She will research microbial populations that relate to feed efficiency in a cow/calf setting. In the future she wants to become a professor with both a teaching and research appointment.
While at UW Hannah has been a teaching assistant for Animal Biology, Principles of Meat Science, and Beef Production. Cunningham is also the Vice President for the UW Graduate Student Association, and was a member of a community choir on campus.
In her free time, Cunningham enjoys spending time at home. She helps work cattle on the farm, rides horses, and has a Border Collie she enters in sheepdog trials.
To be successful in the industry, Cunningham encouraged aspiring animal scientists to place value in their work.
"For me, I know what I am studying could someday help my parents and their operation. Believing my research has a real-world application reminds me that my work matters."
The Young Scholars Recognition Program acknowledges the research accomplishments of current and/or recent Ph.D. and M.S. students in the Western Section of ASAS. Scholars provide an abstract and proceedings paper and give a 30-minute invited presentation about their graduate program at the Western Section meeting.