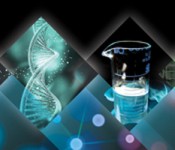 Written by Deb Hamernik, ASAS Public Policy Committee Chair
In May 2014, the National Academy of Sciences released a new report, "Convergence, Facilitating Transdisciplinary Integration of Life Sciences, Physical Sciences, Engineering, and Beyond."
Convergence is an approach to problem solving that integrates the knowledge, tools, and ways of thinking from life sciences, physical sciences, mathematics, computational sciences, engineering, economics, social and behavioral sciences. The goal of convergent research is to address scientific and societal challenges to improve lives and strengthen the economy. Formation of complex partnerships needed to support convergent scientific investigations and translate results into new products and innovations are also discussed. The report is based on a workshop that was held in September 2013.
Use of interdisciplinary research to solve societal challenges is not new and has been discussed in previous reports from the National Academy of Sciences. Several federal funding agencies, including the National Science Foundation, National Institutes of Health, Department of Defense, and the USDA National Institute of Food and Agriculture have established competitive grant programs to support convergent research.
The key message of convergence, however, is that merging ideas, approaches, and technologies from widely diverse scientific fields at a high level of integration is a crucial strategy for solving complex problems that underlie emerging disciplines and new technologies. Convergence requires an open and inclusive culture. Investigators must become conversant across disciplines, understand common concepts and metrics, and agree to shared goals.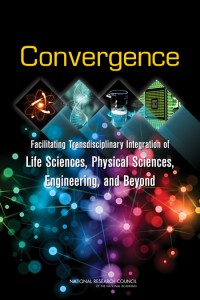 Convergence represents a cultural shift for most universities that are organized around discipline-based departments. Thus, when trying to conduct convergent research, many academic organizations are faced with significant challenges associated with administrative, research, teaching, partnership, and funding structures. For example, how can students be trained to work on challenges that cross disciplinary boundaries or departments? How can recruitment take place across department and college lines? How can faculty members engaged in convergent research be properly evaluated if promotion and tenure is obtained through a primary departmental home?
To capture the momentum generated by convergence and to foster further development, the report recommends that institutions implement various strategies and practices to facilitate convergence endeavors:
Organizing around a common theme, problem, or scientific challenge;
Implementing management structures tailored to the challenges to convergence in each institution;
Fostering opportunities to interact formally and informally;
Changing existing faculty structures and reward systems;
Working with and across existing departments;
Embedding support for convergence in the promotion and tenure process;
Designing facilities and workspaces for convergent research;
Designing education and training programs that foster convergence;
Establishing partnership arrangements across institutions; and
Exploring sources of funding within and beyond government agencies.
Because academic institutions vary in size, mission, and available budgets, there is no one size fits all solution for establishing convergence activities. Essential cultural and structural elements in successful convergence systems will likely include:
People that are committed to supporting convergence from all levels of leadership as well as involvement of students, faculty, staff, and administrators.
Organizations with inclusive governance systems, goal-oriented visions, effective program management, stable support for core facilities, and flexible or catalytic funding sources.
A culture that is inclusive, supports mutual respect across disciplines, encourages opportunities to share knowledge, and fosters scientists' ability to communicate across disciplines.
An overall ecosystem that involves dynamic interactions with multiple partners within and across institutions and strategies to address the technical and logistical partnership agreements.
The scientific opportunities enabled by convergence will make fundamental contributions in our drive to provide creative solutions to the most difficult problems facing society. Community input on the investment priorities in research, education, and infrastructure will help maximize the benefits of convergence to society.