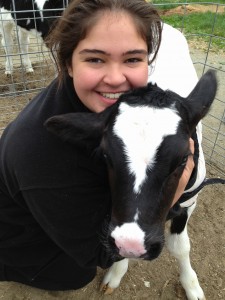 Written by: Lillian Rogers, ASAS Policy Intern
As a rising senior studying Animal Science at the University of Vermont, I found the American Society of Animal Science through researching current events in the animal science industry and becoming increasingly involved in agriculture through the Cooperative for Real Education in Agricultural.  CREAM introduced me briefly to the life that is our farmers', functioning as community pillars to provide essential food products as well as education in sustainability and animal welfare.
From here I was excited to take the next step towards becoming an "agvocate" by becoming involved in policy as the 2014 ASAS Science Policy Summer Intern.   Through this internship I have been given the opportunity to intern with the Animal Agriculture Alliance, their mission being to connect, educate, and protect.
It is my hope that researching the legislation and policies affecting production animals will serve as complimentary knowledge to what I have learned at UVM, making me a better equipped and more reputable animal welfare representative.  It all comes back to animal welfare and the education required to be an informed consumer and community member.