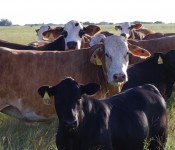 Written by: Anne Zinn
The development of replacement heifers remains one of the most costly aspects of beef production. Therefore, a major goal of the beef industry is developing management strategies that optimize the timing of sexual maturation of heifers to allow maximum lifetime productivity.
A research team at Texas A&M AgriLife Research-Beeville and Texas A&M University-College Station examined the use of a "stair-step" compensatory gain nutritional regimen as one option for addressing this issue in a research article published in the Journal of Animal Science. The work, conducted by Rodolfo Cardoso, Ph.D. student in Physiology of Reproduction and co-principal investigators, Dr. Gary Williams and Dr. Marcel Amstalden, confirmed that timing of puberty can be nutritionally programmed using this stair-step approach during juvenile development.
"One step that can be taken to achieve this goal [of developing management strategies] is for heifers to calve the first time as 2 year olds," said Williams, Professor and AgriLife Research Faculty Fellow at Texas A&M and senior author. "This means that heifers must reach puberty and become pregnant by 12 to 14 months of age."
Previous studies suggested that a critical "window" for nutritional programming of accelerated puberty appears to be during juvenile development (Gasser et al., 2006; Allen et al., 2012). Thus, the research team hypothesized that puberty can be shifted temporally through the use of a stair-step compensatory growth system so that puberty will occur during the optimal 11 to 12 months-of-age window.
Forty crossbred beef heifers, approximately 3.5 months of age, were assigned to 1 of 4 nutritional groups:
(1) low control (LC): restricted feed intake of a forage-based diet to promote body weight gain of 0.5 kg/day until 14 months of age;
(2) high control (HC): controlled feed intake of a high-concentrate diet to produce body weight gain of 1 kg/day until 14 months of age;
(3) stair-step diet-1 (SS-1):
(a) ad libitum feed intake of a high-concentrate diet until 6.5 months of age
(b) restricted access to a high-forage diet to promote body weight gain of 0.35 kg/day until 9 months of age,
(c) ad libitum feed intake of a high-concentrate diet until 11.5 months of age, and
(d) restricted intake until 14 months of age; and (4) stair-step diet-2 (SS-2): reverse sequence of SS-1, beginning with restricted access to a high-forage diet.
Body weight (every 2 weeks) and circulating concentrations of leptin (monthly) were determined throughout the experiment. Leptin is a hormone produced by adipose tissue and that is critical for regulating feed intake and pubertal maturation. Circulating concentrations of progesterone (twice weekly) were used to determine pubertal status.
The research, supported by the Agriculture and Food Research Initiative of the USDA National Institute of Food and Agriculture, indicated that changes in the nutritional and metabolic status during the early juvenile development period can program the onset of puberty that occurs months later, allowing optimal timing of sexual maturation in replacement beef heifers.
"In addition, we also found evidence that postnatal nutritional acceleration of puberty in heifers is facilitated by early programming of increased secretion of leptin," Williams said.
"Perhaps most importantly, we found that even though heifers were more sensitive to the impacts of nutrition during early calfhood (SS-1), severely restricting dietary energy during this period and increasing energy availability from 6.5 to 9 months of age (SS-2) timed reproductive maturation more consistently at 11 to 14 months of age with a much lower incidence of precious puberty."
If heifers are developed on a well-controlled nutritional regimen based on periods of nutrient restriction and realimentation, significant improvements in growth efficiency and lifelong lactation performance may also be achieved (Ford and Park, 2001).
Producers interested in intensive management systems for developing replacement heifers could potentially use this procedure to enhance lifetime productivity of their cow herds.
Williams also said another potential application of the stair-step nutritional development system would be its incorporation into heifer development for the "cow-less" beef herd that will be discussed by Dr. George Seidel at a symposium to be held at the 2014 Joint Annual Meeting in Kansas City "Beef Species: Making more, but using less: The future of the U.S. beef industry with a reduced cowherd and the challenge to feed the U.S. and the world,"
Media Contact:
Anne Zinn
ASAS Media Communications
anne.zinn@gmail.com
Scientific Contact:
Larry Reynolds
ASAS Media Communications
Larry.Reynolds@ndsu.edu