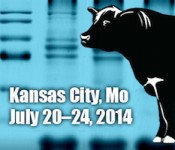 Written by: Laci Jones
The 2014 ADSA-ASAS-CSAS Joint Annual Meeting began with Monday night's Opening Session in the Music Hall Theater in Kansas City.
The Opening Session included a keynote speaker, presentation of the FASS-AFIA New Frontiers in Animal Nutrition Award, and recognition of committees, sponsors and attendees.
Keynote speaker Dr. William Weldon, Vice President of Global Research and Development at Elanco Animal Health, presented on meeting the global demands of 2050.
Weldon said there is a global need for a balanced diet, not just calories. He said a balanced diet could help combat diseases in food deserts and other food insecure locations.
"Animal science is important if we are going to meet this need," Weldon said.
Weldon said there are three key solutions to obtaining stronger countries, more nutritious choices, improved lifestyles, greater human potential and reduced human footprint. These three solutions are innovation, choice and trade.
The first solution is the power of innovation, which is bringing different practices together to produce more food products. Weldon said there needs to be constant improvement to be able to meet global needs.
The second solution is consumer choice, which includes consumers having the food they want. Weldon said this choice should be based on facts instead of false information.
The final solution is trade. Weldon said food must move in order to obtain a food secure world. He said transporting food could be more sustainable than growing food depending on the environmental conditions of different countries.
Dr. Jack Odle, a William Neal Reynolds professor at North Carolina State University, received the FASS-AFIA New Frontiers in Animal Nutrition Award.
Odle's research relates agriculture to medical science through the use of a piglet model to study early-life nutrition.
Odle has served on the editorial boards of the Journal of Animal Science and the Journal of Nutrition. He is currently serving as associate editor for the Journal of Animal Science & Biotechnology and Advances in Nutrition.
ASAS President Greg Lardy recognized the program committees. ADSA President Scott Rankin recognized the sponsors. CSAS President John Baah recognized the JAM international attendees.