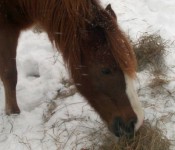 Written by: Laci Jones
During the Extension Education Symposium at the Joint Annual Meeting, researchers presented new technologies to be used in the livestock industry.
Dr. Krishona Martinson, professor at the University of Minnesota, and her team developed two new mobile apps for the equine industry: Healthy Horse and Hay Price Calculator.
Martinson said the Healthy Horse App allows users to calculate the estimated and ideal body weight of horses. The app also produces a body weight score, which is similar to the body mass index in humans.
"Very few owners have access to a scale," Martinson said. "There is a commonly used equation to estimate body weight of horses."
Martinson said most horse owners would not memorize the equation, and she wanted to develop an app to help horse owners.
She said the app estimates the weight of adult Arabians, saddle horses, stock horses, ponies and miniature horses. The estimates are calculated by entering the measurements of height, body length, neck and girth circumference of the horse.
"We wanted to improve upon that equation and also look at ideal body weight because there is an epidemic in equine obesity," Martinson said.
Martinson said the Hay Price Calculator app uses a simple conversion method to calculate the price of hay bales. The app calculates the price per ton of hay and compares small square bales, large square bales and large round bales.
She said purchasing square bales of hay is difficult because the weight of the bales vary. She said the equation allows users to calculate the price more efficiently. The equation was posted on Facebook and was later created into an app.
Martinson said the two apps were released on the Apple operating system in May 2013. The apps were released on the Android operating system in Nov. 2013 and March 2014.
The University of Minnesota received an $8,000 grant to develop the apps for the Apple and Android operating systems. Martinson said the university sold more than 1,500 apps. She said most of the apps have been sold on the Apple operating system.
Media Contact
Laci Jones
ASAS Communications
lacij@asas.org / 580-222-9843