Written by: Laci Jones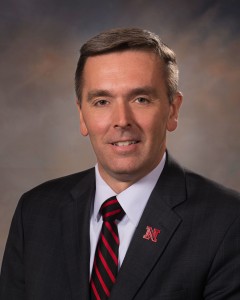 Dr. Ronnie Green, vice chancellor for the Institute of Agriculture and Natural Resources at University of Nebraska, was recognized for his administrative leadership at the ASAS National Awards Program on July 21. He received the ASAS Fellow Award in administration.
Not only does Green excel within administration, he also excels in research and leadership positions. Over the years, he served in numerous leadership positions for the Beef Improvement Federation, National Pork Board and the National Cattlemen's Beef Association.
He is a past-president of ASAS and has served on the ASAS executive committee and board of directors. In 2013, he was appointed by the National Academy of Sciences as a member of the National Research Council Review Team of the USDA Agriculture and Food Research Initiative.
Green published 130 peer-reviewed journal articles and abstracts, 56 invited symposia papers and nine book chapters. He has presented his research findings in 43 U.S. states and 15 countries worldwide.
Green also served as the animal production research national program leader for the USDA's Agricultural Research Service.
Green received his B.S. degree from Virginia Tech and his M.S. degree from Colorado State University. He completed his Ph.D. jointly at the University of Nebraska and the U.S. Meat Animal Research Center.
After completing his doctorate, he joined the animal science faculty at Texas Tech University and later joined Colorado State University. He served as senior director of Pfizer Animal Health before joining the University of Nebraska in 2010.
The ASAS Fellow Award is presented to animal scientists who have made excellent contributions to the animal industry and have had continuous membership in the ASAS for a minimum of 25 years. The American Society of Animal Science is a professional organization that serves more than 5,000 animal scientists and producers around the world.
Media Contact
Laci Jones
ASAS Communications
lacij@asas.org / 580-222-9843