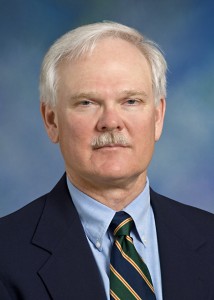 Written by: Laci Jones
Dr. James Oltjen, Animal Management Systems Extension Specialist at the University of California, Davis, received an honor for his extension efforts at the American Society of Animal Science National Awards Program. He received the Fellow Award in the Extension Category.
Oltjen's extension interests include computer decision support software, beef quality assurance and standardized performance analysis for cattle and sheep ranches. He has published over 200 extension papers and abstracts, 33 invited papers and 100 refereed publications.
Along with his extension efforts, Oltjen studies animal management systems, animal agriculture resource usage and beef cattle growth. His research projects include improving efficiency and reducing variation in beef production through feedlot performance prediction.
He also studies supplementation strategies for beef cow herds, herd management modeling and the cost and benefit analysis of animal identification.
He developed the California Beef Quality Assurance Program and has collaborated with researchers in seven countries. He is a technical adviser to the California Beef Cattle Improvement Association.
Oltjen received his B.S. and M.S. degrees from Kansas State University and his Ph.D. from UC Davis. After receiving his doctorate, he joined the Oklahoma State University faculty. He joined UC Davis in 1990.
His previous honors include the 2003 ASAS Extension Award and the 1997 ASAS Western Section Extension Award. He is an ASAS Past-President and a Past-President of the Western section.
The ASAS Fellow is presented to animal scientists who have made excellent contributions to the animal industry and have had continuous membership in the ASAS for a minimum of 25 years. The American Society of Animal Science is a professional organization that serves more than 5,000 animal scientists and producers around the world.
Media Contact:
Laci Jones
ASAS Communications
lacij@asas.org / 580-222-9843