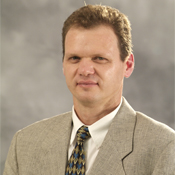 Funeral services for Dr. Marcel Amstalden, 44, of College Station, TX will be held Wednesday, September 10 at 1 p.m. at the Memorial Funeral Chapel College Station, College Station, Texas. His family will receive friends Wednesday from 11 a.m. until service time at the funeral home.
 Dr Amstalden died Wednesday, Sept. 3, 2014 from injuries sustained during a car accident that occurred while traveling near Hallettsville, Texas.
Dr. Amstalden was an associate professor in physiology of reproduction in the Department of Animal Science at Texas A&M. He also was currently serving as Chair of the Interdisciplinary Faculty of Reproductive Biology at Texas A&M.
"We are incredibly saddened by the loss of Marcel Amstalden," said Dr. Russell Cross, head of animal science. "Not only was he a brilliant scientist and a rising star, he was a valued member of the Animal Science family, bringing pleasure to those around him with his caring personality and gentle smile."
Dr. Amstalden is survived by his wife, Katia, and two daughters.
Funeral arrangements are under the direction of Memorial Funeral Chapel College Station, College Station, TX.