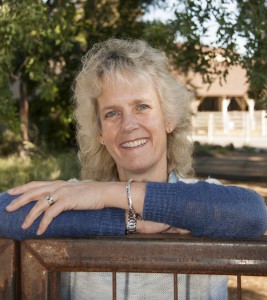 Dr. Alison Van Eenennaam will speak on "Adapting Animal Feedstuffs to Meet Global Demand" at Innovate 2014. The program focuses on "Global Food Security: Innovations in Protein Production to Meet the Global Demands of 2050."
Dr. Van Eenennaam is a Cooperative Extension Specialist in the field of Animal Genomics and Biotechnology in the Department of Animal Science at the University of California, Davis. She received a Bachelor of Agricultural Science from the University of Melbourne in Australia, and both an MS in Animal Science, and a Ph.D in Genetics from UC Davis. The mission of her extension program is "to provide research and education on the use of animal genomics and biotechnology in livestock production systems." Dr. Van Eenennaam works particularly with the beef cattle industry and has developed a variety of extension programming for producers on topics ranging from marker-assisted and whole-genome enabled selection. Her outreach program focuses on the development of science-based educational materials including the controversial biotechnologies of genetic engineering (GE) and cloning. She has given over 250 invited presentations to audiences in 17 states and 7 countries, and has served on several national committees including the USDA National Advisory Committee on Biotechnology and 21st Century Agriculture, (2005-2009), and as a temporary voting member of the 2010 FDA Veterinary Medicine Advisory Committee meeting on the AquAdvantage salmon, the first GE animal to be evaluated for entry into the food supply. Dr. Van Eenennaam was the recipient of the 2010 "National Award for Excellence in Extension" from the American Association of Public and Land-Grant Universities; the 2014 American Society of Animal Science National Extension Award; and the 2014 Borlaug CAST Communication Award.
Visit the Innovate 2014 program for conference agenda and registration information.