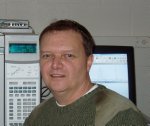 Brian J. Bequette, 53, of Columbia, Md., died Tuesday, Sept. 16, 2014.
Brian was an associate professor in the Department of Animal and Avian Sciences at the University of Maryland.
Brian received a B.S. from the University of Illinois, Champaign-Urbana, an M.S. from Southern Illinois University, Carbondale, in 1986, and a Ph.D. from the University of Missouri-Columbia in 1990.
He authored or co-authored 47 journal articles, 5 reviews, 8 book chapters, 4 proceedings papers, 77 abstracts, 1 book and received 29 invitations to speak at collegiate, national and international meetings. He co-authored the National Research Council's Nutrient Requirements of Small Ruminants (2007) and served on the Editorial Boards of The Journal of Nutrition, British Journal of Nutrition and Journal of Animal Science.
Visitation is from 4 to 8 p.m. Tuesday, Sept. 23, and 8 to 9:30 a.m. Wednesday, Sept. 24, at Quernheim Funeral Home, Waterloo, Ill. Funeral Mass at 10 a.m. on Wednesday, Sept. 24. at Ss. Peter & Paul Church, Waterloo.