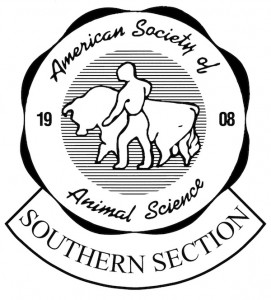 The ASAS Southern Section would like to invite you to submit a nomination for the 2015 Graduate Student Representative position on the ASAS Southern Board.
Graduate student participation at ASAS Southern Section meetings is a key ingredient to its success. Nearly 25% of annual meeting attendees are graduate students.  Therefore, the ASAS Southern Section Executive Committee encourages greater involvement by graduate students, by implementing the position of Graduate Student Representative.
The term of service will be two years scheduled to begin in February 2015, at the annual meeting to be held in Atlanta, GA.
Briefly, the duties associated with this position are to provide a graduate student perspective to Executive Committee deliberations throughout the term of service and assist in identifying opportunities to enhance the ASAS Southern Section annual meeting experience for graduate students and other participants.  To accomplish these duties, graduate student representatives will:
attend the Executive Committee meeting scheduled at each year's annual meeting
participate in any/all conference calls held by the Executive Committee during the year
respond as needed to correspondence related to Executive Committee business
serve on ASAS Southern Section committees as assigned.
Please send the name of the student, name of the institution in which the student is enrolled, and the student's email address to the ASAS Southern Section President – Dr. David Lalman(david.lalman@okstate.edu) by October 10, 2014.
Each of the graduate students nominated will be contacted by the President and asked to provide the following information by October 20, 2014:
A letter of support from their major professor
Answers to the following five questions:
Are you a current member of ASAS?  What type of educational program are you pursuing (M.S. or Ph.D.)?
What is the projected completion date of your current educational program and what are your plans following this phase of your education?
Have you attended a Southern Section-ASAS meeting previously?
What, in your view, are the benefits for graduate students of attending and participating in the ASAS Southern Section annual meeting?
Why does the Graduate Student Representative position interest you and what qualifications do feel you have to serve in this role?
NOTE:  The nominee's response to these 5 questions must not exceed 1 page in length; 12 point Times New Romans font, 1-inch margins on left, right, top and bottom. The major professor's letter and answers to the five questions from all nominees will be provided to a selection committee, which will use the information to select the students to be placed on the ballot for voting by the ASAS Southern Section membership. One student will be elected each year to serve a two-year term and only two students will be placed on the ballot.