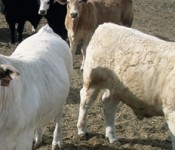 By Samantha Walker, ASAS Communications
Feedlot operations in the Midwestern United States, especially in states close to the Great Lakes, opt for slatted-floor facilities instead of open feedlots. Dr. Daniel Grooms, a professor in the College of Veterinary Medicine at Michigan State University, said there are four major reasons why these facilities are used.
First, slatted-floor facilities are environmentally friendly and important to water security. "These slatted-floor facilities allow us to more tightly control manure runoff because all the feces and urine go into large pits, which are underneath the facilities," Grooms said. "So it's all captured and contained with much less risk of it running off into streams, creeks and ultimately the Great Lakes."
Second, slatted-floor barns can house large numbers of cattle and require less land than open feedlots. Third, cattle in these facilities are sheltered against the elements.
"For the climatic conditions we have in say Michigan – lots of moisture, lots of rain and lots of snow – having these animals under a roof is very important," Grooms said. "We can't have open lots like there are in the western part of the United States and expect cattle to do well."
Fourth, cattle housed in these facilities are cleaner by the time they reach the packer, reducing food safety risks involving fecal and dirt contamination.
However, even with all of these benefits, slatted floor facilities are not perfect. Cattle housed in these barns have an increased risk for tail injuries and lameness. Aside from being painful, tail injuries increase the risk of reduced performance due to secondary complications such as infection.
According to a recently published Journal of Animal Science article coauthored by Grooms, "… 50% of slatted-floor facilities routinely dock tails of yearling cattle on entry to the feedlot with the rationale that this practice will reduce tail tip injury and lameness and improve performance."
In a previous publication, Grooms and colleagues had reported that docking the tails of feedlot cattle in slatted-floor systems did not benefit animal performance, carcass traits, or health of cattle in three studies, encompassing 277 Angus-cross and 102 Holstein steers.
In the current study, the authors found that, despite local anesthesia during surgery and postoperative analgesia, calves exhibited altered behavior for up to two weeks after tail docking, compared with sham-operated control calves.
Because of the altered behavior and the lack of benefits of the procedure, the authors recommend "… pursuing alternative solutions to reducing the incidence of tail tip injury in feedlot cattle housed in confined slatted-floor facilities." In addition, the authors point out that neither the American Veterinary Medical Association nor the American Association of Bovine Practitioners condone tail docking of cattle.
To mitigate tail injuries and lameness, but avoid the tail docking procedure, Grooms said he and others are starting a project involving slatted-floor facilities with rubber flooring.
"We continue to look at ways to make these facilities more welfare friendly because they are valuable," Grooms said. "They have benefits for the cattle industry, but we also need to make sure the cattle in these facilities have the best possible life while they're there."
Media Contact:
Samantha Walker
ASAS Media Communications
Scientific Contact:
Larry Reynolds
ASAS Media Communications
Larry.Reynolds@ndsu.edu