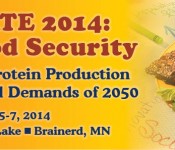 By Larry Reynolds, ASAS Communications
After a stimulating Keynote Address on Sunday evening by Dr. Barbara P. Glenn, Innovate 2014 continued on Monday morning with a series of talks about food security issues facing the developed and developing world. Here is a recap of Session 1: "Developed and developing: the challenges."
Dr. Shalene McNeill with the National Cattlemen's Beef Association discussed the benefits of including appropriate amounts of animal-based protein sources in a healthy diet for humans, including improved infant growth and cognitive development. She also mentioned the need for increased research including large clinical trials, better definitions of red and processed meats, and public education about healthy use of animal protein sources.
Dr. Robert Paarlberg of Wellesley College talked about the need to balance the increased demand for animal products and their health benefits with socio-economic issues and perspectives, implementation of policies including those that minimize environmental costs, and development of sustainable farming systems.
Dr. Sharon Megdal from the University of Arizona presented the highly complex and often contentious issues surrounding increasing demand for fresh water in the face of its limited supply. She also pointed out that although intensive agricultural systems are major water users, agricultural usage can be reduced by implementation of strategies such as lining of canals and improved irrigation technologies. She also emphasized that solving water use problems will require a convergence of food security, water security, and energy security strategies.
Dr. Joyce Turk with the U.S. Agency for International Development (USAID) presented the various programs and opportunities available at USAID, emphasizing livestock in undeveloped countries. Since its establishment in 1961 by President John F. Kennedy, USAID has supported numerous programs, especially in Africa, including research in livestock value chains, vaccines and diagnostics, and the role of animal source foods in human nutrition. In addition, USAID is taking the lead in a global food security initiative, Feed the Future.
Dr. Ellen Dierenfeld, a private animal nutrition consultant based in the St. Louis area, discussed development of local feed and forage solutions to improve yields and efficiency in animal production. Although animal-based protein and energy are critical to improving the health of developing populations, mixed crop-livestock systems produce half of the world's food, and the challenge is to improve the efficiency and sustainability of animal production in traditional systems.
The good news is that the role of farmed animals in sustainable agricultural systems is increasingly being recognized, as is the role of animal products in a healthy diet. Nevertheless, food security is a complex problem that involves environmental issues, cultural differences, diverse production methods, and use of local and regional breeds and feedstuffs, and will require multi-disciplinary research efforts.
In truth, solving these problems is not an option given the challenge of feeding the rapidly expanding human population, and the fact that food security is critical not only to national security but also to global stability (UN World Food Program). In some respects, these issues are not new – as George Washington remarked, "I know of no pursuit in which more real and important services can be rendered to any country than by improving its agriculture" (Letter to John Sinclair, 1794).
Media Contact:
Kim Schoonmaker
ASAS Media Communications
Scientific Contact:
Larry Reynolds