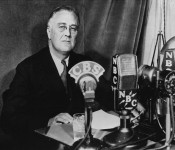 By Deb Hamernik, ASAS Public Policy Committee Chair
On November 17, 1944, President Franklin Delano Roosevelt wrote a letter to Vannevar Bush, head of the Office of Scientific Research and Development (OSRD). The OSRD was the wartime agency for science mobilization.
In the letter, President Roosevelt asked how to further scientific research after the end of World War II. Roosevelt had the vision to suggest that the lessons learned from the OSRD during war could also be "profitably employed in times of peace." Roosevelt wrote "New frontiers of the mind are before us…we can create a fuller and more fruitful employment and a fuller and more fruitful life."
Roosevelt asked Vannevar Bush to provide recommendations on four specific points:
What can be done, consistent with military security, and with the prior approval of the military authorities, to make known to the world as soon as possible the contributions, which have been made during our war effort to scientific knowledge?
With particular reference to the war of science against disease, what can be done now to organize a program for continuing in the future the work which has been done in medicine and related sciences?
What can the Government do now and in the future to aid research activities by public and private organizations?
Can an effective program be proposed for discovering and developing scientific talent in American youth so that the continuing future of scientific research in this country may be assured on a level comparable to what has been done during the war?
In July 1945, Vannevar Bush delivered a report to President Roosevelt: "Science—the Endless Frontier" which ultimately led to the creation of the National Science Foundation (NSF). In his introduction to this report, Vannevar Bush wrote "Scientific progress is one essential key to our security as a nation, to our better health, to more jobs, to a higher standard of living, and to our cultural progress."
Although this correspondence transpired 70 years ago, the questions President Roosevelt asked in 1944 are still relevant today. In addition to the priorities of national security and human health that President Roosevelt identified in 1944, today society is also faced with additional challenges such as food security, energy security, water security, and climate change. And, a recent report from the STEM Food and Ag Council provides evidence that we are not producing nearly enough young, talented people in a variety of fields and disciplines in the food and agriculture industry. The current supply of Animal Scientists is not sufficient to keep up with employer demand for workers.
President Roosevelt's question #3 above is still relevant today, maybe more than ever: "What can the Government do now and in the future to aid research activities by public and private organizations?" Two recent reports, Restoring the Foundation: The Vital Role of Research in Preserving the American Dream and Furthering America's Research Enterprise, (and other reports in recent years) provide several excellent recommendations for increasing federal investments in research and training the next generation of scientists. As summarized in Furthering America's Research Enterprise, "Stable and predictable federal funding encourages talented students to pursue scientific careers, keeps established researchers engaged over a career, and attracts and retains foreign talent. It also supports a diversity of institutions that both fund and conduct research, as well as essential scientific infrastructure—the tools necessary for conducting research. Stable resources are increasingly important to future competitiveness given the rising investments in research by other countries, particularly China and other Asian nations."
With all of the change in the U.S. Senate and House of Representatives due to the recent mid-term elections, animal scientists must continue to remind the 114th U.S. Congress to adopt many of the recommendations in these reports and reinvest in American research to support discovery, technology, training, and innovation in food and agriculture.