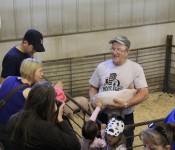 The ASAS Foundation website has undergone a remodel! During the renovation, a new section entitled "Passion for Animal Science" was created to recognize the energy and enthusiasm that our Foundation donors have for animal science.
The section will be updated regularly, so check back often to learn how some of your peers are showing their passion for the profession. The first article in this section looks at some of the people behind the annual "Moos, Ewes and More" event at North Dakota State University. Several ASAS members, including ASAS past president Dr. Greg Lardy, helped make this year's event possible. Here is an excerpt from the article:
On Sept. 6, 2014, the North Dakota State University (NDSU) Department of Animal Sciences hosted its 5th annual "Moos, Ewes and More." The family-friendly event, which attracted more than 1,500 people, showcases animal agriculture through demonstrations and interactive activities. 
Activities during the event included sheep shearing, wool spinning, bottle feeding calves, cow milking, showing livestock and hoof trimming. Attendees could "Ask the Animal Scientist" questions and see research in action. NDSU farm managers were on hand to talk about the animals that call NDSU home.
During the event NDSU also distributed copies of Jr. Animal Scientist, published by ASAS and sponsored by the ASAS Foundation, to attendees.