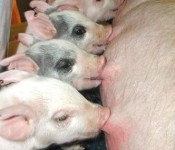 By Laci Jones, ASAS Communications
New research published in the Journal of Animal Science gives the pork industry more information about factors affecting genetic evaluation of key performance, maternal and offspring survival traits in swine breeding programs.
Dr. Susanne Hermesch, a study co-author from the University of New England in Armidale, New South Wales, Australia, said the researchers used direct equations to define the economic values of the traits. This allows greater adaptability of the model outputs to a wider range of pig production systems supported by different genetic evaluation systems than many conventional approaches.
"The [two journal articles] are…publication[s] for one study deriving economic weights for economically important traits of pigs," Hermesch said. "The study was a collaboration with Peter Amer and his team at AbacusBio in New Zealand."
In the first study, the researchers found that maternal traits contribute about half of the variation in the overall breeding objective. The study also included the maternal genetic effects on lifetime growth as a breeding objective trait. The most important traits for formulation of breeding objectives were piglets born alive and preweaning survival.
In the second study, the researchers identified postweaning survival as an important breeding objective trait in pig breeding programs. Hermesch said a finishing pig's death resulted in lost revenue after a high level of investment in feed, labor and capital. This resulted in a high postweaning economic weight.
She said breeding companies are the obvious users of these economic models. However, farmers can use the models to evaluate the economic values of their pig herds.
"The models are easy to implement and can easily be extended and are dependent on multiple breeding objective and multiple scenarios and multiple approaches," Hermesch said.
For example, animal welfare, group performance of sows, meat and eating quality, environmental sensitivity and other traits may be considered in the future as breeding objectives.
The two studies were funded by the Australian Pork Cooperative Research Center.
The two articles can be read in full in the December 2014 issue of the Journal of Animal Science.
Media Contact:
Kim Schoonmaker
ASAS Scientific Communications Associate
Scientific Contact:
Dr. Larry Reynolds
ASAS Scientific Communications Advisor