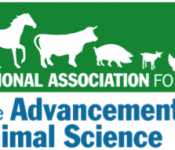 The National Association for the Advancement of Animal Science (NAAAS) applauds the release of the National Academies of Science (NAS) report entitled
"Critical Role of Animal Science Research in Food Security and Sustainability"
. The report, released January 7, 2015, documents the important contributions that animal science and animal agriculture make to society and finds that current funding levels are not sufficient to meet global demands.
Over the past two decades, public funding of animal science research has been stagnant. The report correctly states that growth in U.S. research related to animal agriculture productivity and sustainability is imperative and recommends that the public investment in animal science should be increased to make up for past years of underfunding and help ensure that future needs are met. Dr. Russell Cross, NAAAS President, stated, "I am very pleased to see that this report recognizes the critical need for increased public investment in animal science to meet the important societal goals of food security and sustainability."
In addition to highlighting the need for additional funding, the report does an outstanding job of identifying key areas where enhanced public funding can help provide science-based solutions to improve animal productivity, increase food safety and food security, improve sustainability, and address public concerns about animal welfare. Cross went on to state, "NAAAS thanks the committee for its hard work to complete the report and the study's sponsors for making this effort possible. With the report's release, now it is time for NAAAS and other stakeholders to carry this message to policymakers to ensure that the report's recommendations are realized."
The National Association for the Advancement of Animal Science (NAAAS) is comprised of animal, dairy, poultry and veterinary science departments from colleges and universities across the United States as well as national and state organizations involved in animal agriculture and animal science. NAAAS is dedicated to improving overall federal funding for animal agricultural research to help maintain the nation's status as a world leader in safe, abundant and efficiently produced animal products. For more information on NAAAS contact Lowell Randel (lowell@therandelgroup.com).
Further reading: