Hobart "Hobe" W. Jones, 93, of West Lafayette, IN, died Thursday, January 8, 2015, at Westminster Health Care. He was born April 15, 1921, in Cass County, IN, to the late Thomas and Julia Mae Condon Jones.
Hobe graduated from Purdue University in 1943 and became Assistant County Extension Agent in Tippecanoe County.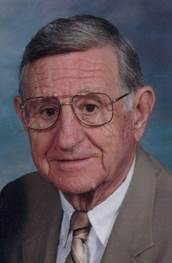 He received his Masters Degree from The Ohio State University in 1946 and then managed farms in Indiana, Michigan and Ohio. In 1950 he came to Purdue University and taught Animal Science in the College of Agriculture. He received his PhD in 1958 from the University of Kentucky. Hobe retired in 1988 after 38 years at Purdue. While at Purdue he won many teaching awards, and national awards for his work in Animal Science and the swine industry.
On December 12, 1943 he married Lois E. Smith in Waterloo, IN and she survives.
He was a member of St. Andrew United Methodist Church. Hobe loved his Lord Jesus Christ, his family, Purdue University and his many students.
Surviving along with his wife are his children Jennie Lu Jones of West Lafayette, Thomas Scott Jones (Susan) of Kalamazoo, MI, Douglas Wayne Jones (fiance Patty) of West Lafayette, Daniel Raye Jones (Michele) of Noblesville, grandchildren Michael Scott Jones (Karin) of Ft. Pierce, FL, Jennifer Royal Jones of Pittsburg, PA, Steven Hobart Jones of Noblesville, great grandchildren Marlee Elizabeth and Maxwell Hobart Jones of Ft. Pierce, FL. Also surviving are his brother James L. Jones (Nancy) of Lafayette and several nieces, nephews and cousins. Hobe was preceded in death by sisters Mary Atkinson and Ellen Mackey.
Visitation will be 10:00 AM until the time of service at 11:00 AM Saturday, January 17, 2015 at St. Andrew United Methodist Church, Revs. Tim Burchell and Pat Sleath officiating. Private entombment will be at Tippecanoe Memory Gardens. Those wishing may contribute in Hobart's memory to St. Andrew United Methodist Church youth programs or the Baltzell Endowed Scholarship honoring Millard Plumlee, Hobart Jones and Martin Stob (online at purdue.edu/giving or checks to Purdue Foundation with memo to Baltzell Scholarship, 403 W. Wood St., West Lafayette, IN 47907). Soller-Baker Funeral Home in charge of arrangements.
Published in the Journal & Courier on Jan. 11, 2015