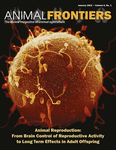 The January 2015 issue of Animal Frontiers takes a look at reproductive biology research. In the issue, guest editors Pascale Chavatte-Palmer and Pascal Mermillod discuss: "Research on fertility, evolution, or revolution?"
The authors state that new developments in reproductive biology have stimulated interest in this field of research and led to new questions that need new answers.
"As guest editors of this issue, we deeply believe that the reading of these review papers will easily convince any reader of the interest of these exciting upcoming research fields and of the promising applications that can be expected from these new developments," write Chavatte-Palmer and Mermillod. "Our hope is that these scientific arguments will reach some decision makers and help promote this highly valuable reproductive biology research."
Below is a listing of the 10 Feature Articles found in the January 2015 issue of Animal Frontiers. Access the Table of Contents here. The full articles and abstracts are available in open-access format.
Central control of reproduction: A KISS and beyond
New insights into the function of progesterone in early pregnancy
Early nutritional programming and progeny performance: Is reproductive success already set at birth?
The oviduct: A key organ for the success of early reproductive events
Dairy cattle reproduction is a tightly regulated genetic process: Highlights on genes, pathways, and biological processes
The epigenetics of embryo development
Genetic engineering of pigs for the creation of translational models of human pathologies
Alternative methods for control of reproduction in small ruminants: A focus on the needs of grazing industries
Egg quality in fish: Present and future challenges
Biotechnologies for wildlife fertility preservation