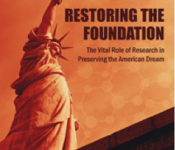 By Penny Riggs, ASAS Public Policy Committee Member
In September 2014, the American Academy of Arts & Sciences released a report that urges sustained federal investment in research, and offers recommendations for academe, government agencies, and the private sector to collectively reset the path of American leadership in science, technology, and engineering.
The full report, Restoring the Foundation: The Vital Role of Research in Preserving the American Dream, demonstrates the decline of the U.S. national research and development investment as percentage of GDP, in comparison with competitors, and calls for action to maintain America's economic strengths by ensuring continued basic research capability for driving innovation.
This report argues that basic research is key for delivering advances in science and technology necessary for economic prosperity, a healthy research enterprise, and overall security in America. A diverse committee generated the report and made recommendations to support three actionable objectives:
Secure America's leadership in science and engineering research–especially basic research–by providing sustainable federal investments.
Ensure that the American people receive the maximum benefit from federal investments in research.
Regain America's standing as an innovation leader by establishing a more robust national government-university-industry research partnership.
In the lengthy report, numerous previous assessments regarding the scientific research enterprise are reviewed, beginning with the 1994 letter from President Franklin D. Roosevelt that resulted in the report by Vannevar Bush, Science – the Endless Frontier, previously discussed in Taking Stock DC. As noted in a 2014 Global R&D Funding forecast, the United States has not kept pace with research investment rates in other countries, and this trend is alarming. While taking a patriotic tone, the American Academy of Arts & Sciences report shows that advancements in science and technology have been the predominant driver of GDP growth in the U.S. during the past 50 years. New technologies have arisen from research discoveries, and the report warns that the health of America's research enterprise requires increased and appropriate investment to increase global competitiveness and strengthen the economy.
The report calls for research investment to return to the rate of growth that occurred from 1975-1992, and proposes multiyear appropriations in the federal budget for basic research and STEM education. Additional recommendations target best practices, research efficiencies, assessment, and sustained development of a skilled workforce, along with new actions to promote innovation and technology transfer, and increase partnerships. Specific examples include recommendations for Congress to establish a sustainable and aggressive growth rate for national R&D investment, and to make the Research and Experimentation tax credit permanent – a suggestion echoed recently by the National Association of Manufacturers. Several recommendations call for expansion of STEM education, as well as intellectual exchange across industry, university, government and other sectors. The report repeatedly emphasizes the important role that research discoveries play in supporting the existence of the American Dream and the opportunities it brings about.
The innovation and technological advances driven by the scientific research findings of the past decades also permitted America to enjoy an abundant, safe, and nutritious food supply. However, research that benefits the agricultural enterprise in the U.S, especially animal agriculture, is supported by a small percentage of the overall federal R&D budget. As demand for animal-sourced foods continues to increase as population expands and affluence increases in other parts of the world, continued advances and innovation in food animal production processes remain a critical need. The recommendations in this report, as well as other recent documents, demonstrate the importance of U.S. investment in basic research funding and education. Animal scientists must also continue to help communicate these messages.