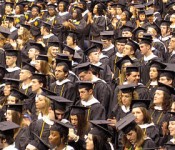 Good news for students graduating with animal science and agriculture degrees this year! According to an article by Cheat Sheet, a USA Today content partner, these degrees are among the top 5 highest paying of 2015.
The article cites five college majors with the highest earning potential for 2015 grads:
1) Engineering
2) Computer science
3) Math and sciences
4) Business
5) Agriculture and natural resources
The article lists both projected average starting salary and average lifetime earnings for the five college majors. For example, students graduating this year with an agriculture or natural resources degree can expect to earn a starting salary of $51,220. That's about $11,800 shy of an engineering major's projected starting salary, but still "much more" than what the average college graduate would start at, according to the article. Lifetime earnings for these grads are projected to average $2.6 million.
The average starting salary for math and sciences majors is $56,171, with an average lifetime earnings of $2.6 million for science grads and $3.1 million for math grads.
Read "The 5 highest paying degrees of 2015."
Photo From Wikimedia Commons