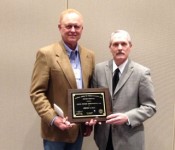 Feb. 3, 2015 – Dr. Tom Troxel, a professor and associate department head at the University of Arkansas, received the Southern Section Distinguished Service Award this week during the Annual Meeting of the American Society of Animal Science (ASAS) Southern Section, held Jan. 31–Feb. 3, 2015 in Atlanta, Ga.
Dr. Troxel began his career with Texas A&M University in 1983. In 1992, he accepted a position with the University of Arkansas and currently is Professor and Associate Department Head. Dr. Troxel's programs have assisted producers and provided information to colleagues in the Southern Section. He has served on the Extension, Advisory, Necrology, Fontenot Travel Scholarship, and Officer Nomination committees. Dr. Troxel was President in 2001, formed the Past Presidents Club, secured a sponsor for the Extension Award and served on the ASAS Board of Directors. He's authored or co-authored 34 refereed journal articles, 90 abstracts, and 73 experiment station reports. Dr. Troxel is most deserving of the Southern Section Distinguished Service Award.
Please join us in honoring Dr. Troxel's commitment to the Southern Section.
About the photo: Dr. Tom Troxel (right) accepts the Southern Section Distinguished Service Award from Dr. Monte Rouquette, Texas A&M University
Media Contact:
Kim Schoonmaker
American Society of Animal Science
Scientific Communications Associate
217-356-9050/kims@asas.org