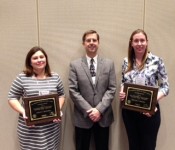 Feb. 3, 2015 – Two Outstanding Young Animal Scientists were honored this week during the Annual Meeting of the American Society of Animal Science (ASAS) Southern Section, held Jan. 31–Feb. 3, 2015 in Atlanta, Ga.
The Southern Section Outstanding Young Animal Scientist Education Award was given to Dr. Christy Bratcher, an associate professor at Auburn University. Outstanding Young Animal Scientist – Research was awarded to Dr. Kristine Urschel, an associate professor at the University of Kentucky.
Dr. Bratcher joined the faculty of the Department of Animal Sciences at Auburn University in 2008. She earned her bachelor's and master's degrees from the University of Florida and completed her doctorate at the University of Missouri – Columbia in the area of Meat Science. Prior to beginning her career at Auburn, Dr. Bratcher worked as the Food Safety and Quality Assurance Director for Buckhead Beef in Auburndale, Fla. Because of her range of experience, she has been able to integrate her 'real world' knowledge from private industry with her work at a land grant institution through revitalization of the muscle foods curriculum and launching of a solid teaching and research program. Her former graduate students hold key positions in the Meat Science field due, in no small measure, to her dedication to their education.
Please join us, and the award sponsor Alltech, in honoring Dr. Bratcher.
Dr. Urschel completed both her B.Sc. (Animal Science; 2002) and Ph.D. (Nutrition and Metabolism; 2007) at the University of Alberta, Canada. Her research program in the Department of Animal and Food Sciences at the University of Kentucky focuses on protein and amino acid nutrition and metabolism in horses, and she employs isotopic and molecular biology techniques in her research. She is one of only a few researchers in the world using stable isotope techniques to study whole-body protein metabolism and amino acid requirements in horses. She has been very successful in securing extramural funding for her program, with sources of funding that include the USDA AFRI competitive grants program, the Morris Animal Foundation, and the equine feed industry. She has 20 peer-reviewed publications, is the author of 1 book chapter and has given invited talks to both national and international audiences.
Please join us, and the award sponsor Elanco Animal Health, in honoring Dr. Urschel.
About the photo: Dr. Christy Bratcher (left) and Dr. Kristine Urschel (right) received the Outstanding Young Animal Scientist Award for Education and Research, respectively. Pictured with them is Dr. Dave Lalman, outgoing Southern Section President.
Media Contact:
Kim Schoonmaker
American Society of Animal Science
Scientific Communications Associate
217-356-9050/kims@asas.org