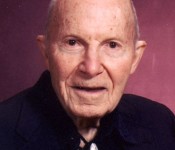 Following is the obituary release of Dr. Thomas B. King, former ASAS president and Fellow:
Feb. 7, 2015 – Thomas Blose King, of State College, Pa., died on Feb. 7, 2015, at age 89. He was born on a farm in Indiana County, Pa., January 13, 1926, to Sarah Blose King and Thomas Davis King, both deceased. Upon graduation from Clymer (Pa.) High School in 1943, he entered the Navy and served as a communications officer aboard a destroyer in the Pacific theatre. Following World War II, he was discharged as Lieutenant, junior grade, U.S. Navy. He then earned B.S. and M.S. degrees in animal husbandry from the Pennsylvania State College (now Pennsylvania State University), and a Ph.D. degree in animal science from the University of Illinois.
In 1948 he married Alice Hamilton Mendenhall. In addition to Alice M. King, his wife of 66 years, he is survived by their four children: Thomas Davis King (Jana Pisanski King) of State College, Pa., Lynne L. King Echard (Robert L. Echard) of State College, Pa., Ann I. King Filmer (Charles L.R. Filmer) of Davis, Calif., and Mark Allen King (Karen Stashak King, dec'd) of Battle Creek, Mich.
Their seven grandchildren are Barbara P. King-Wilson (Alex Wilson), Nevin P. King (Audra King), Ryan D. Dennis (Nikki Blackburn), Andrea L. Dennis, Owen T.M. Filmer, Emory I. Filmer, and Andrea F. King Nicholson (Kyler Nicholson). The five great-grandchildren are Matisse C. Wilson, Leo T. Wilson, Nolan P. King, Spencer E. King, and Channing G. Dennis.
His four siblings are William R. King, dec'd (Juliette "Judy" King) of Kittanning, Pa.; J. Fred King (Nancy M. King, dec'd) of Huntingdon, Pa.; Carol Ann Smith (John Smith, dec'd) of Hamilton, Ohio; and James E. King, died in infancy. Tom has many nieces and nephews.
Tom King's professional career at the Pennsylvania State University started as an animal science professor and livestock extension specialist. He later served as Head of the Department of Animal Science (1965–70), Assistant Director of Penn State's Cooperative Extension Service (1970), and Associate Dean of Extension in the College of Agricultural Sciences (1971–82).
In 1982, Penn State initiated an agriculture project in Swaziland (southern Africa). Tom was the first chief of party, working with Swazi and U.S. researchers, and Peace Corps volunteers. He and Alice returned from Swaziland in 1985, whereupon he became program leader of International Programs in the College of Agricultural Sciences at Penn State until retiring in 1986.
Tom King was president and a fellow of the American Society of Animal Science. He was a strong advocate for 4-H, and was involved with the National 4-H Council, the Council for Agricultural Science and Technology, the Pa. Land Use Coalition, the Pa. Rural Development Committee, the Pa. State Planning Board, the Pa. Farm Show Commission, the Pa. Conservation Commission, the Pa. Meat Animal Evaluation Center, the Pa. Livestock and Allied Industries Association, and the Penn State University Faculty Senate.
In 1981, the Penn State Department of Animal Science presented him with its Distinguished Alumnus Award. He was a member of national extension fraternity Epsilon Sigma Phi, and received its Distinguished Service Award, and was a member of the agricultural fraternity Delta Theta Sigma, receiving its Outstanding Alumnus Award. He was a member of the Penn State Stockmen's Club and recipient of its Booster Award.
Tom King served as president of the State College Rotary Club. For more than 40 years he was an avid member of the State College Photo Club. For five years he served as scoutmaster for Boy Scout Troop 38 in State College. He was a long-time and active member of the University Baptist and Brethren Church in State College.
Tom's passions were family, gardening, photography, travel, and serving humankind. Memorial donations can be made to Pennsylvania 4-H (College of Agricultural Sciences, 240 Ag Admin Bldg, University Park, PA 16802; 814-867-2722) or the University Baptist and Brethren Church (411 S Burrowes St, State College, PA 16801; 814-237-2708).
His family warmly thanks the staff at The Fairways, Juniper Village at Brookline, in State College, for their excellent care of Tom.
A memorial service will be held on Monday, Feb. 9, 3:00 p.m., at the University Baptist and Brethren Church, 411 South Burrowes Street, State College, Pa.. Internment is being planned by the family.
Media contact:
Ann King Filmer (Tom King's daughter)
530-902-8119
920 Oak Avenue
Davis, CA 95616