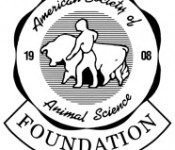 The ASAS Foundation plays an active role in supporting sectional meetings and symposia, as well as awards, travel scholarships and internships. Here is a snapshot of some of the activities that the Foundation has been involved with during the past month and what's on tap for March.
Sectional meeting support
Funding from several Appreciation Clubs is put to good use at the various sectional meetings, including the recent
2015 Southern Section Meeting, held Jan. 31-Feb. 3, in Atlanta, Ga.
Travel scholarships
to the meeting, sponsored by the Joseph P. Fontenot Appreciation Club, were given to Brittni Littlejohn from Texas A&M University, and Kate Sharon from Texas Tech University. The Bill E. Kunkle Interdisciplinary Beef Symposium also is supported by Foundation funds.
Next month, there are several Appreciation Club-sponsored
symposia
during the ASAS Midwest Section/ADSA Midwest Branch 2015 Joint Meeting in Des Moines. Here is a list of clubs and the respective symposia that they support:
Gary L. Allee Appreciation Club – Gary Allee Symposium: "Impact of FDA Guidance's 209 and 213 on the Swine Industry"
David H. Baker Appreciation Club – David Baker Amino Acid Symposium
Billy N. Day Appreciation Club – Billy Day Symposium: "History and Current Status of Some Milestones in Swine Reproduction Research"
Harlan D. Ritchie Appreciation Club – Harlan Ritchie Symposium: "Have We Entered a New Era in Beef Production"
Internship opportunities
Funding from the Bob Zimbelman, Harold Hafs, Barb Glenn, Jack Britt, and Louis Boyd Appreciation Clubs support
science policy interns
in Washington, D.C. The recipients for summer 2015 were recently announced.