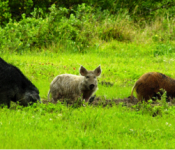 March 5, 2015 – The ASAS Midwestern Section/ADSA Midwest Branch 2015 Joint Meeting will be held March 16-18 in Des Moines, Iowa. One of the special events taking place during the Midwest Meeting is the Bentley Lecture and Lunch on Tues., March 17 at 12:30 p.m. in the Grand Ballroom of the Iowa Events Center. The lecture is entitled "Production and quality of exotic meats produced in low input agricultural systems."
It will be given by Dr. Louw Hoffman, Distinguished Professor in Meat Science, DSt/NRF South African Research Chair in Meat Science Genomics to Nutriomics, Department of Animal Sciences, Faculty of AgriSciences, Stellenbosch University.
To view information about Dr. Hoffman and his research, please visit his website: www0.sun.ac.za/sarchi/
The lecture is sponsored by the ASAS Foundation Orville Bentley Appreciation Club.
Registration is required. Attendance is limited to the first 400 registrants. There is a registration fee of $10.00.
Visit the Midwest Meeting website for more information.