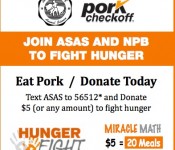 Tues., March 17, 2015 – Join ASAS today in a fundraising initiative to provide 100,000 meals to hungry children and families. In partnership with our commodities groups, ASAS is raising $40,000 to help the Hunger Fight organization provide meals that will feed hungry children and families in northern Florida this summer.
We are starting the fundraising initiative during the Midwest Meeting! To donate 20 meals, text ASAS to 56512 and donate $5. Today the pork industry is our partner, so if you eat pork at either the Midwest Meeting, or at home, make your donation so others can enjoy the same food security.
Because of the generosity of our commodities groups, your $5 donation will actually result in 40 meal donations through matching funds!
Just remember: Eat Pork, Text ASAS to 56512, Donate $5, Provide 20 meals (40 meals)!
Other industry groups will be taking part throughout the 2015 Midwest Meeting. Stay tuned to see when eating your favorite meal will be highlighted!
For more information about the 2015 Joint Annual Meeting (JAM) meal-packaging effort with Hunger Fight, click here.