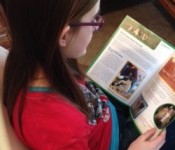 March 26, 2015 – A new issue of Jr. Animal Scientist is arriving in the mailboxes of Jr. Animal Scientist members across the country. Jr. Animal Scientist membership currently stands at about 500! The Foundation provides key support dollars for this program.
The March 2015 issue is all about "The sound of music," and how animals respond to it. One of the articles takes a look at the impact of sounds, like orchestra music, on the digestive responses of sheep. Current Foundation Trustee and Foundation Donor Dr. Dave Ames conducted this research 4o years ago, so it came as a bit of a surprise to be asked about it recently.
He recalls, "I was studying environmental stressors so (we) looked at sound type and intensity." At the time, sonic booms were a perceived problem, Ames says.
The subject matter also made for some "adult" humor. Ames recalls comments like, "A ram killed himself when we played 'There Will Never Be Another You' (Ewe)." And, he said, "when we altered endocrine response with high intensity sound we were asked if sound could be used for birth control!" (Editor's note: These jokes do not appear in Jr. Animal Scientist.)
Despite being the target of several jokes, Ames describes the research as "fun and interesting," and in all seriousness, it found that acclimation to certain noises basically eliminated their impact on parameters like digestibility and rumen motility.
Watch for more information soon about how you can help get Jr. Animal Scientist into elementary school classrooms!