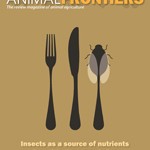 April 6, 2015 –
The
April 2015 issue
of
Animal Frontiers
is now available. The theme of the issue is "Insects as a source of nutrients: Beyond the Western prejudices."
 Feature articles in this month's issue include:
"Insects as a source of nutrients: Beyond the Western prejudices," by guest editor Christiane L. Girard
"Imagination, hospitality, and affection: The unique legacy of food insects?" by Heather Looy and John R. Wood
"Edible insects—a novel source of essential nutrients for human diet: Learning from traditional knowledge," by John N. Kinyuru, Joseph Birundu Mogendi, Chris A. Riwa and Nancy W. Ndung'u
"Insect-based protein sources and their potential for human consumption: Nutritional composition and processing," by Birgit A. Rumpold and Oliver Schlüter
"Edible insects: a food security solution or a food safety concern?" by Simone Belluco, Carmen Losasso, Michela Maggioletti, Cristiana Alonzi, Antonia Ricci and Maurizio G. Paoletti
"Pre-Hispanic agricultural practices: Using pest insects as an alternative source of protein" by R. Cerritos and M. Klewer
"Insects in fish diets" by G. Tran, V. Heuzé and H.P.S. Makkar
"Insects: a protein-rich feed ingredient in pig and poultry diets" by Teun Veldkamp and Guido Bosch
The entire issue is available in open-access format. Read it here.