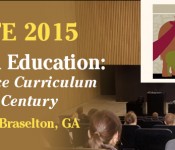 April 13, 2015 – The deadline for poster abstracts for Innovate 2015 is Wed., April 15, 2015 at 11:59 p.m. Central Daylight Saving Time. The theme of this year's program is "Innovations in Education: An Animal Sciences Curriculum for the 21st Century."
The curriculum is the heart of a student's college experience. It is a department's primary means of changing students in directions valued by faculty. Curricula should be reviewed and, if necessary, revised on a regular basis, to better serve the changing needs of both undergraduates and society as a whole. In addition, to "what" is taught as part of the curriculum, we must also be concerned with "how" it is taught. At the same time, animal sciences faculties recognize that curricular matters affect recruitment of new students, retention of students within the major past their first year, and ensuring their success past graduation.
The goal of Innovate 2015 is to assist college and departmental administrators and faculty in developing the knowledge and skills to improve effectiveness of teaching and learning in animal sciences through curriculum development and quality of teaching within that curriculum.
Call for Posters
The organizers of Innovate 2015 would like to invite all attendees to submit an abstract to be considered for the poster session that will be held Monday, June 1 during the conference. All abstracts should be within the general topic: Innovations in Teaching: New and Innovative Ways of Engaging Students in Classroom and Laboratory Settings. Poster presentations may report research findings or they may be demonstration-orientated (methods, technology, tools for teaching), as long as they are appropriate and consistent with the poster session theme or topic. Each abstract will be limited to 400 words and a maximum of one table. The submission deadline is April 15, 2015 at 11:59 p.m. Central Daylight Saving Time.
All posters will be presented on interactive video boards (instructions will be provided once posters are accepted) and may include handout materials.
All abstracts must be submitted electronically via the World Wide Web:
https://asas.confex.com/asas/innovate15/cfp.cgi
Submission Instructions:
Abstracts may contain a maximum of 400 words.  The word count excludes the title, authors and institutions.
Abstracts can be edited until the submission deadline (April 15, 2015, 11:59 p.m. CDT).
One table can be included with the following restrictions:
It is recommended that all abstract components (title, body, and table) be copied directly from a word processing file. The formatting and special characters will carry over directly into the abstract system. No coding will be necessary
Please ensure that your abstract does not contain spelling, grammatical or scientific errors, as it will be reproduced exactly as submitted. No proofreading will be done.
The submission of an abstract constitutes a formal commitment by the presenting author to present the abstract (if accepted) as a poster in the session and the time assigned by the Innovate program committee. We therefore recommend that submitters of abstracts register for the congress simultaneously with abstract submission.
Abstracts not adhering to these guidelines will be rejected. If you do not agree with any of these rules, you should not submit an abstract. The final decision about acceptance of an abstract will be at the discretion of the Innovate 2015 Organizing Committee.
If you need to withdraw your abstract, a written statement reflecting the reasons for this decision must be sent to the ASAS Headquarters Office (asas@asas.org) no later than April 15, 2015.