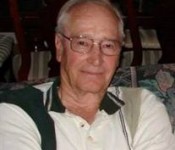 April 30, 2015 – Dr. John K. Ward, age 87, passed away on April 22, 2015, in McPherson, Kansas. Dr. Ward joined the Animal Science faculty at the University of Nebraska in 1968 in the area of cow-calf nutrition and range management. He remained on the faculty until he retired in 1989.
John was a member of ASAS and served on a number of its committees. In addition to his graduate and undergraduate teaching and advising responsibilities, Ward's research focused primarily on forage production and use in beef cattle. John continued his relationship with the Department as Professor Emeritus and taught part-time in the University's Japanese Agricultural Training Program until 1997 when he and his wife, Bonnie, moved to McPherson. He then traveled to several countries on five continents, mainly as a consultant on crop residue utilization.
Dr. Ward served on several county boards while living in McPherson. He also represented the county in the Kansas Silver Haired Legislature, served as the Agricultural Reporter for the local daily newspaper, and chaired an International Foods Resource Bank Project.
For more information, please read Dr. Ward's obituary.