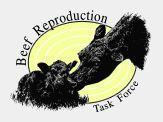 May 7, 2015 – The 2015 Applied Reproductive Strategies in Beef Cattle Symposium (ARSBC) will be hosted by the University of California, Davis, Department of Animal Science on August 17-18 in Davis, Calif.  Cow-calf producers, bovine veterinarians, industry representatives, students and extension personnel are encouraged to attend.
The conference is an annual Beef Reproduction Task Force event that is held in a different location every year. This is the first time that it will be held in California. The task force is a multi-state extension activity in cooperation with the North Central Agricultural and Natural Resources Program Leaders Committee and the Cooperative State Research, Education and Extension Service.
The program will include six general sessions which will cover a variety of topics, from physiology to genetics to management, and will present the latest information on reproductive technologies in beef cattle.  View the current program here.  The two-day conference will take place at the UC Davis Conference Center on the university campus. Prior to the conference on Sunday, August 16, there will be a one-day tour of a buffalo artificial insemination facility, and a beef cattle ranch/winery in the Napa valley.
Key goals of the Beef Reproduction Task Force include promoting widespread adoption of reproductive technologies among cow-calf producers, educating producers in management considerations that will increase the likelihood of successful breeding of animals through artificial insemination and educating producers about marketing options to capture benefits that result from use of improved reproductive techniques.
Anyone seeking additional information about the 2015 ARSBC conference should visit the conference website or email Dr. Alison Van Eenennaam at alvaneenennaam@ucdavis.edu; or call at 530 752-7942. This conference is partially supported by a conference grant from USDA NIFA, the UC Davis College of Agricultural and Environmental Sciences, and the Department of Animal Science.