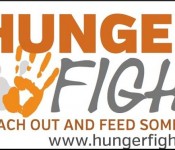 June 24, 2015 – During this year's Joint Annual Meeting, ASAS is teaming up with the Hunger Fight organization to package 100,000 meals for hunger children and families in northern Florida. You can help make the meal-packaging event a success by making a monetary donation during the Western Section Meeting — even if you're not at the meeting.
Simply text ASAS to 56512 and donate $5.
A $5 donation provides 20 meals! Today, your donation goes even further. Thanks to the American Sheep Industry Association (ASI), your $5 donation will actually result in 40 meal donations through matching funds! Please join us in thanking ASI for partnering with us to reduce food insecurity.
Just remember: Eat Lamb, Text ASAS to 56512, Donate $5, Provide 20 meals (40 meals)!
For more information about the 2015 Joint Annual Meeting (JAM) meal-packaging effort with Hunger Fight, click here.