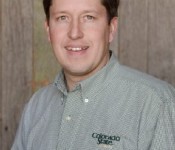 June 26th, 2015 – Dr. Jason Ahola is an Associate Professor of Beef Production Systems at Colorado State University (CSU). His outstanding student education efforts earned him this year's WSASAS Distinguished Teacher Award. The honor recognizes the teaching accomplishments of dedicated animal science educators in the Western Section of ASAS.
After growing up on a small purebred Hereford operation in rural northeastern Connecticut, Ahola received a B.S. in Animal Science from Penn State University and an M.S. in the Beef Industry Leadership Program at CSU.
He received a Ph.D. from CSU in 2004, focusing on the effects of trace minerals on beef cattle production systems. While at CSU, he also evaluated alternate methods to predict High Altitude Disease (Brisket Disease) in beef cattle and the efficacy of several estrous synchronization programs.
Prior to joining Colorado State's faculty, Ahola was an Extension Beef Specialist for five years with the University of Idaho at the Caldwell Research and Extension Center in southwestern Idaho.
At CSU, he primarily teaches undergraduate courses, including a senior-level capstone course.
"One of the expectations I have of my students, which I tell them on the first day, is that I expect them to question me and my paradigms as much as possible – I want them to keep me on my toes,"  said Ahola. "Having them ponder questions they might ask throughout the lecture really helps to initiate discussion and back-and-forth interactions, which are vital for students to learn."
In the future, Ahola hopes to continue to improving teaching skills, including trying out the new "flipped classroom" concept. It's a method where students spend more time reviewing material prior to class, then use the class time for in-depth discussions and problem solving.
"It's intended to increase student-teacher and student-student interaction," said Ahola. "For upper-level courses related to beef cattle production and management, this seems like a great idea."
Ahola also advises the CSU Seedstock Merchandising Team, a group of 8 undergraduate students who are given the ultimate responsibility for the annual marketing and sale of 30-40 bulls and 10-15 heifers produced from the ARDEC cowherd. He additionally oversees the CSU Agricultural Research, Development and Education Center (ARDEC), and the Seedstock herd, a 180-head purebred Angus and Hereford cowherd used for teaching and research.
Ahola lives in Fort Collins, Colorado with his wife, Sara, and two sons.
Members of the Western Section of the American Society of Animal Science who are actively involved in classroom instruction are eligible for the WSASAS Distinguished Teacher Award. Administrators are eligible provided they personally teach courses during the school year. The American Society of Animal Science is a professional organization that serves more than 6,000 animal scientists and producers around the world.
Read more on WSASAS Award guidelines, and see a list of this year's award winners.
Media Contact:
Kim Schoonmaker
ASAS Scientific Communications Associate