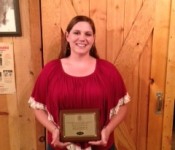 June 26, 2015 – Katelin Marchetti was named a Young Scholar at the 2015 Western Section Meeting this week in Ruidoso, N.M.
A native of New Mexico, Marchetti completed her B.S. at New Mexico State University where she is currently pursuing a M.S. in Ruminant Nutrition/Microbiology. She was accepted into veterinary school and will be attending Washington State University in August, 2015.
During her M.S., she conducted research dealing with quorum sensing in the rumen. This is a novel area in rumen microbiology and Marchetti's work should provide needed information to move this field forward.
The Young Scholars Recognition Program acknowledges accomplishments of current and/or recent Ph.D. and M.S. students in the Western section of ASAS. Scholars provide an abstract and proceedings paper and give a 30-minute invited presentation about their graduate program at the Western Section Meeting.