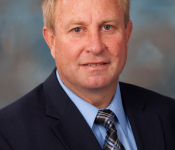 July 6, 2015 – Dr. Graham Clifford Lamb, Assistant Director and Professor at the University of Florida's North Florida Research and Education Center in Marianna, Fla., is the recipient of the Animal Management Award. He will be recognized during the ADSA-ASAS Joint Annual Meeting in Orlando, July 12-16.
Lamb received his B.S. in Animal Science from Middle Tennessee State University in 1992 and completed his M.S. and Ph.D. degrees in 1996 and 1998, respectively.
Lamb's research program can be defined by three focus areas: 1) To develop reliable, efficient, and economic artificial insemination protocols; 2) To evaluate the practical use of applied reproductive technologies; 3) To develop and maintain collaborative relationships and research that focus on factors affecting reproduction in cattle.
The defining area for Lamb's work has been with estrus synchronization, specifically his publications related to fixed-time artificial insemination, which have become the standard of the AI industry.
In addition, developing and maintaining research relationships with livestock producers and industry partners have been critical to the success and notoriety of his program. He also focuses on a successful graduate student program and has been the chair or co-chair of 18 graduate students since 2004.
In 2013, Lamb and 6 colleagues received the USDA-NIFA Partnership Award for Multistate Efforts for their Extension efforts in reproductive management. Lamb received the University of Florida Research Foundation Fellowship Award in 2014.
His programs have received more than $9 million in grant funds or gifts. He has published 84 refereed journal articles, along with more than 460 extension and research reports.
The Animal Management Award recognizes those who have made significant contributions to production management. This year's award is sponsored by Merial Limited.
Please join us in honoring Dr. Lamb.
Media contact:
Kim Schoonmaker, ASAS Scientific Communications Associate