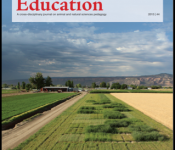 July 6, 2015 – Natural Sciences Education (NSE) is a cross-disciplinary, peer-reviewed journal on animal and natural sciences education. The American Society of Agronomy publishes NSE along with several cooperating societies, including ASAS.
Articles are written by and for educators in extension, universities, industry, administration and grades K–12. Professionals are encouraged to use NSE to discover teaching techniques, concepts, ideas, and more.
Here are some feature articles from the latest issue:
The entire issue can be found here. For more information about Natural Sciences Education, see the FAQs.