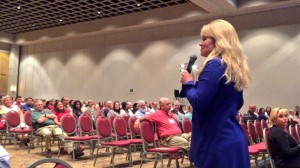 Welcome to the 3,252 (and counting) JAM attendees!
ADSA President Al Kertz began this year's opening ceremony by welcoming all members. Then, Geoff Dahl, the Overall Program Committee Chair, gave a brief overview of the scientific program.
Dr. John Patience of the University of Guelph was also awarded at the opening ceremony as the recipient of the 2015 FASS-AFIA Award.
Michele Payn-Knoper presented the keynote of the ceremony. She encouraged scientists to connect with consumers on an emotional level by having personal, down-to-earth conversations. Her message was to share relatable stories about agriculture, as they are more effective communication tools for consumers than data and research.
Follow the JAM conversation on Facebook and Twitter! Share your tweets with @CritterChatter and @JtMtgTweets and use the hashtag #JAM2015.