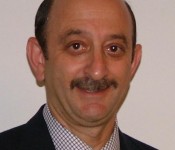 July 14th, 2015 – Dr. Max Rothschild, Distinguished Professor in Iowa State's Department of Animal Sciences, is this year's winner of the Morrison Award. He was recognized at the ASAS Awards Ceremony in Orlando on Monday, July 13th.
Rothschild is considered one of the world's foremost animal geneticists.  He earned this title through his unique and highly productive research program, his exemplary activities as the U.S. Pig Genome Coordinator and his service and teaching in animal breeding and genetics.
His early research was statistical in nature. His use of maximum likelihood procedures and demonstration of methods to remove selection bias were major contributions to the area of parameter estimation and are still often cited. He additionally examined recursive techniques in the standard linear model as well as in Bayesian settings.
In 1986, he extended classic research on maternal effects to include cytoplasmic effects, considering how the level of nonnuclear inheritance might be estimated and applied, especially in breeding programs, to select superior mothers of future AI sires.
His novel pig research received national and international recognition by demonstrating genetic control of immune response and identifying genes for litter size, fat deposition, meat quality and growth. His lab developed many DNA tests used today, impacting approximately 75% of U.S. pigs.
The Morrison Award is given to an individual who stimulates research excellence of direct importance to livestock production. The American Society of Animal Science is a professional organization that serves more than 5,000 animal scientists and producers around the world.
Media contact:
Kim Schoonmaker
ASAS Scientific Communications Associate