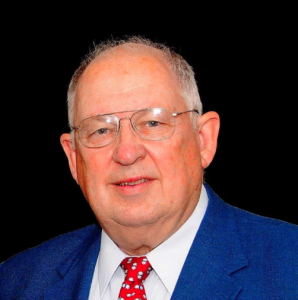 July 20th, 2015 – The ASAS Retiree Service Award honors animal scientists who continue to serve and contribute valuable knowledge to the Society after they retire from their primary professional career position. Although retired, Dr. Gary Cromwell of the University of Kentucky still consistently proves his dedication to the world of animal science.
Cromwell was honored as the recipient of the Retiree Service Award at this year's JAM in Orlando.
Cromwell retired from the University of Kentucky (UK) in January 2012 after a long and distinguished career in swine nutrition research and teaching. In addition to publishing 176 refereed papers, 25 book chapters and 1,000+ abstracts and other articles, he worked tirelessly with various organizations to shape policies related to and enhancing animal agriculture.
He held leadership positions with the Committee on Animal Nutrition of the National Research Council (NRC), the Federation of Animal Science Societies (FASS) and its forerunner, the Federation of American Societies of Food Animal Sciences (FASFAS); the Council for Agricultural Science and Technology (CAST); and the National Pork Producers Council.
These critical scientific committees dealt with many important issues involving biotechnology, safety of food products derived from animals, antibiotic resistance, and others.
Cromwell has been an active member of ASAS throughout his career. He served in such roles as President and Section Editor of the Journal of Animal Science. Just before his retirement, The ASAS Foundation established an Appreciation Club in his honor, which is currently being used to sponsor the Cromwell Award for Mineral Nutrition each year at JAM.
Since retiring, Cromwell has focused much of his time and energy to the oversight and management of the National Animal Nutrition Program (NANP), a National Resource Support Project (NRSP-9) supported in part by the Experiment Station Committee on Organization and Policy, the State Agricultural Experiment Stations, and Hatch Funds provided and administered by USDA/NIFA. He has served as Chair of the NANP since its establishment.
Under Cromwell's leadership, modeling and feed composition committees have been successful in developing a large feed ingredient database as well as providing modeling support for establishment of nutrient requirements for beef cattle, dairy cattle, swine, and poultry. Since the NANP was established, the NRC nutrient requirement publication for swine was completed, the publication on beef cattle requirements was started and almost completed, the publication for dairy cattle was started and is nearing completion, and plans for a publication on poultry requirements are underway.
The role that the NANP has played in helping the NRC to reduce the intervals between the nutrient requirement publications has a tremendous benefit to all of the members of ASAS who deal with animal nutrition.
Cromwell served as chair of the ASAS Regulatory Agencies Committee and the FASS Food Safety, Animal Health, and Animal Drugs Committee. His total service to ASAS and FASS in this role lasted 24 years. After retiring, he continued to serve as Chair of the FASS Committee for 2 additional years. He and his committee held a 1-day symposium each spring to interact with FDA, USDA, and other Federal Agencies in the Washington D.C. area.
For the past 3 years, Cromwell has chaired one of the graduate student oral paper competition sessions at the Midwestern Section ASAS meeting in Des Moines, and he continues to review papers for the Journal of Animal Science.
Cromwell also helped ASAS establish the Tim Stahly Swine Nutrition Award (now called the Stahly/Peo Award) that was created following Stahly's untimely death. After the award was established, he served on the award selection committee for several years, some of which were during his retirement.
Cromwell chaired the Awards and Recognition Committee for UK's Department of Animal Science for the past 22 years. The committee coordinates the nomination of ASAS members for sectional and national awards. Over the past 10 years, faculty members have received 25 national ASAS awards, 8 sectional ASAS awards and 41 college or university level awards from nominations that Cromwell and his committee prepared.
He continues to serve as ASAS representative to the American Feed Industry Association annual meeting. He encourages AFIA members to become members of ASAS and attend the sectional and national meetings.
Cromwell continues to be active and supportive of ASAS during his retirement years. His continued contributions to ASAS make him a worthy recipient of the 2015 Retiree Service Award.
The American Society of Animal Science is a professional organization that serves more than 5,000 animal scientists and producers around the world.
Media contact:
Kim Schoonmaker

ASAS Scientific Communications Associate

kims@asas.org