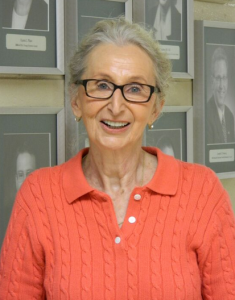 July 23, 2015 – Dr. Gretchen Hill, from Michigan State University, received the Gary L. Cromwell Award for Research in Mineral Nutrition at the Joint Annual Meeting, held July 12-16. This award recognizes those who have excelled in research with livestock mineral nutrition.
Hill received her Ph.D. from Michigan State University and after seven years at the University of Missouri, she took a position as a professor back at Michigan State University in 1993.
Hill's research has focused on the trace minerals zinc, copper, selenium, and iron, and their interactions with other nutrients in swine, beef, dairy, sheep, humans, and rats.
A great deal of Hill's research has involved pharmacological concentrations of dietary Zn. Hill's group has contributed greatly to an understanding of the mechanisms of Zn metabolism (both at and above NRC requirements) and has made it possible to continue its addition to nursery pig diets without insulting the environment.
Her collaborative research has contributed to data on mineral metabolism, mass balance, and nutrient management, including proposing new methods for determining requirements.
Due to her practical experience and friendly attitude, she is frequently consulted when feed industry personnel find a problem that may be trace element related.
Hill has taught undergraduate and graduate students, and supervised research projects of undergraduate, M.S. and Ph.D. students.  She has been a peer reviewer for journals, and active with ASAS, ASN, FASEB, and currently serves on the AAALAC International Executive Committee.
The award is sponsored by the Gary L. Cromwell Appreciation Club.
Media contact:
Kim Schoonmaker

ASAS Scientific Communications Associate