By Jacquelyn Prestegaard, ASAS Communications
July 29, 2015 – Dr. Samodha Fernando has been profoundly successful during his relatively short tenure at the University of Nebraska, Lincoln (UNL.) As the winner of this year's ASAS Early Career Achievement Award, his dedication to his work does not go unnoticed. Fernando, along with Dr. Kristine Urschel, received the early-career award during the 2015 ADSA-ASAS Joint Annual Meeting in Orlando.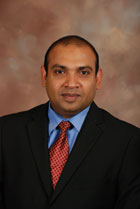 Markedly, Fernando has helped develop highly collaborative research teams to evaluate the gut microbial ecology of beef cattle, dairy cattle, swine and poultry. Plus, his success in obtaining external grants, publishing, advising grad students, supervising undergrad research projects and teaching is nothing short of commendable.
He has been Assistant Professor of Nutritional Biochemistry in Animal Science at Nebraska since 2011. He also holds courtesy appointments in the UNL School of Biological Sciences and in the Department of Food Science and Technology.
Prior to coming to Nebraska, Fernando served as a Postdoctoral Associate at the Massachusetts Institute of Technology (MIT) and received his graduate training at Oklahoma State. His graduate and postdoctoral research focused on microbial ecology and structure-function relationships using functional-metagenomics and community transcriptomics. Those studies have allowed him to broaden his expertise on next generation sequencing technologies and bioinformatics approaches to analyze large datasets.
Over the course of his short career, Fernando has published 16 refereed journal articles, 20 abstracts, and 10 research reports. He currently serves as the advisor to 2 M.S. students, 2 Ph.D. students, 1 Postdoctoral Fellow, and 2 technicians.
Fernando is exceedingly active outside of his research studies. He is the faculty advisor of the UNL Animal Science Graduate Student Association and is an Executive Committee Member of the Nebraska Gateway to Nutrigenomics group. He is also a faculty advisor to nine undergraduate students who are conducting research projects funded by UNL or the USDA.
He teaches two graduate courses, Animal Nutrition and Nutritional Biochemistry. Even further, Fernando has served his community by conducting a weeklong workshop at the Lincoln Children's Museum entitled "Yuckology" teaching about microbes and their importance.
Fernando has experience educating not only students and colleagues, but also the general public. Last year, he was interviewed as a scientific expert on the BBC television show, "Horizon: Should I Eat Meat?" which aired worldwide.
He has been a reviewer for six journals, including Environmental Microbiology, PLOS ONE, Journal of Applied Microbiology, Pathogens, Journal of Animal Science and Journal of Dairy Science.
Fernando is quickly earning a distinguished reputation as a leading researcher in his field. He is a most worthy recipient of the ASAS Early Career Achievement Award. He will be recognized for the achievement at the ADSA-CSAS-ASAS Joint Annual Meeting in July.
The American Society of Animal Science is a professional organization that serves more than 5,000 animal scientists and producers around the world.
Media Contact:
Kim Schoonmaker
ASAS Scientific Communications Associate