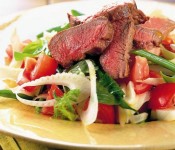 Aug. 3, 2015 – ASAS has issued a statement in support of keeping lean meat in the diet. The response was prompted by a recent Washington Post article that suggests animal-based diets are associated with obesity. The entire release is available here and at the ASAS website.
For Immediate Release                                                                                   
American Society of Animal Science Issues Statement in Support of Lean Meat in the Diet
Response prompted by recent article suggesting animal-based diets are associated with obesity.
Champaign, Ill. (August 3, 2015)—The American Society of Animal Science (ASAS) has issued the following statement in response to information in a recent Washington Post article that correlates obesity with certain diets, particularly those containing meat.
The Washington Post article discusses the results of a new study by agricultural economists at the University of Nebraska-Lincoln. They used mathematical models to examine high-calorie diets consumed by different cultures around the world and how Americans could lose weight by emulating certain diets. As it turns out, the suggested diets tended to be more plant-based, which would mean eating fewer meat and animal products.
Lean meat plays an important role in a healthy diet and in weight management.
Lean meat provides a source of high-quality protein, as well as other important nutrients that are absent from plant-source foods. In addition, lean meat is rich in certain amino acids that can effectively reduce obesity, as well as improve cardiovascular function in obese humans.
Eating protein from meat also promotes satiety, which decreases overeating of dietary carbohydrates. Consuming excess carbohydrates causes the body to make and store more fat, which can contribute to weight gain and the development of obesity.
In The Washington Post article, authors of the study stated that the mathematical model also may be capturing other lifestyle factors associated with weight management, such as eating habits and physical activity.
About American Society of Animal Science
The American Society of Animal Science fosters the discovery, sharing and application of scientific knowledge concerning the responsible use of animals to enhance human life and well-being. Our members work in agriculture because they love animals and believe feeding our families, friends, and communities is important. For more information visit www.asas.org.
Media Contact
Kim Schoonmaker
Scientific Communications Associate, ASAS
217-356-9050