By Samantha Kneeskern, ASAS Science Communications Intern


August 20, 2015 – Advancements in technologies, feed and livestock price fluctuations, environment, and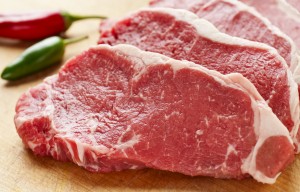 many other changes in the agricultural industry affect consumer preferences. According to the latest Food Demand Survey (FooDS) from Oklahoma State University, consumer willingness to pay for all meat products has increased since this time last year. In fact, willingness to pay is at its highest since the survey began in 2013.
FooDS is a monthly, online survey of approximately 1,000 participants. Questions in the survey address consumer demand, expenditures, knowledge, value, and concerns.
This month, consumers are willing to spend $8.03 for a steak, $4.42 for a pork chop, and $2.92 for a chicken wing.
Consumers spend more money each week eating from home ($98.96) than eating away from home ($54.52). Both have increased since August 2014, likely due to increased food prices.
Consumers expect that they will buy about the same amount of meat as last month, but they expect lower meat prices.
Consumer awareness is greatest for Salmonella, E. coli, and GMOs. However, consumer awareness of agricultural products, technologies, and issues has not changed much from a year ago. Consumer concern is greatest for Salmonella, E. coli, and antibiotics. However, hormones, GMOs, and animal welfare are not far behind. In the past month, consumers have increased their concerns about Salmonella, lean finely textured beef (LFTB, a.k.a., "pink slime") and cloning.
The biggest consumer challenge is finding food that will fit within their budgets. When purchasing food, consumers first look for taste, safety, and nutrition. The novelty of the food item is the least valued by consumers.
This month, Oklahoma State asked participants to match a meat product to the animal that it is from. Bacon and ham slices were the products that were most incorrectly matched. Just over 6% and 5% of participants believe ham slices and bacon are from cows, respectively.
Almost 81% of participants believe that farmers can use antibiotics to treat sick animals. However, 25% of participants believe that farmers can use antibiotics for any reason they deem reasonable.
Questions about genetically engineered crops and livestock were asked in the survey. The greatest majority of people didn't have an opinion about genetically engineered crops.  Almost 40% of the participants disagreed with transferring genes from another species into an animal.
To see all graphs and statistics from the August 2015 survey, click here. The Oklahoma State University survey site and statistics from previous months can be viewed here.